US Adjustment of Status
Overview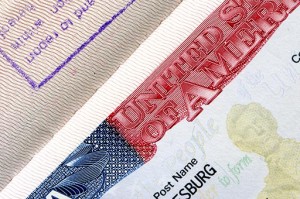 Generally, if a foreign citizen wants to immigrate to the US, he or she has to apply for an immigrant visa at a US Embassy or Consulate abroad. Then the immigrant will have permanent resident status after entering the US. However, in some cases you may be able to get US permanent resident status without departing American soil. This is through an adjustment of status (AOS).
Section 245 of the Immigration and Nationality Act provides that 'the status of an alien who was inspected and admitted… into the United States…may be adjusted by the Attorney-General, in his discretion."
Thus, if you are a foreign visitor, as long as you entered the country legally with a non-immigrant visa and are not otherwise disqualified, there is a chance that your temporary status can be changed permanent resident status, in the Attorney-General's discretion. To make the process simpler, the Attorney-General has approved a number of regulations.
Requirements
According to the regulations, you will be granted permanent residence as long as:
you are eligible to receive an immigrant visa.
you are admissible to the US for permanent residence.
you apply for adjustment of status according to the regulations; and
An immigrant visa is immediately available for you when your application is filed.
Disqualifications
The adjustment of status is not be available to legal non-immigrants who entered the US:
As a non-immigrant crewman.
In transit without a visa;
With a visa waiver, unless you are also the relative of a US citizen and did not use the Guam waiver;
Without inspection by an immigration officer and lawful status;
And failed to maintain lawful status, unless your failure to maintain lawful status was not your fault.
And engaged in unauthorized employment
As an exchange visitor and are subject to the two year foreign residence requirement.
As an A, E or G non-immigrant and you do not waive your diplomatic privileges and file the required forms.
If you already have conditional residence, for example if you arrived as an immigrant sponsored by your American spouse to whom you were married for less than two years, you may not apply for adjustment of status. There is a different procedure to convert your conditional residence to permanent residence after the initial two year period.
If you used a K-1 fiancé(e) visa to travel to the US you cannot apply for AOS until after you marry the US citizen who sponsored your visa within the 90 days after you entered the US. If you used a K-2 visa, you cannot apply for AOS until your parent married as required by the K-1 visa.
If you are filing for AOS based on your marriage and you got married while administrative or judicial proceedings are pending regarding your right to be in the US, you can only file for AOS in certain circumstances.
If you are not sure if you fit in any of these categories you should consult a US attorney experienced in immigration law.
Work
When you file your application for AOS, you can apply for permission to work for a one year period of validity. In certain cases, you may be granted a two year Employment Authorization Document (EAD) or work permit, but most applicants for AOS will receive a one year work permit. If needed, you can renew your EAD while your application for AOS is pending.
Travel
You are generally not allowed to leave the US while your application for AOS is pending. However, if there is an immediate legitimate, personal, or business reason for you to leave while your AOS application is pending, you may apply for for advance parole. Advance parole will allow you to leave the US without abandoning your application for AOS.